FREE Shipping for select UK orders! - Worldwide shipping supported!
Name and paracord updateS
Firstly we greatly appreciate the support shown over the years we have been making custom cables and providing niche modding supplies to the mouse community all over the world, its has been nice to see the end results shared to us via various social platforms, but its time to introduce a few new updates which we would like to share with you.

Formerly known as 'ParaCableMods' we've changed our name and will continue to create bespoke cables under our new name ZerkGamingMods, we feel this name will fit perfectly with the cables we currently make and stock, although we don't just make and stock cables like we did when we first started in 2018, although they are still our core!
We would like to update you on some changes to our cables that we have been working on behind the scenes for sometime! We have been using 30 AWG 26 strand internal wire in our cables since 2018 and its been a great improvement over the stock cables, but just like our new name its time for a change. All new orders from July 30th onwards 2021 have shipped with our new 32 AWG internal cable, it is lighter and thinner which does add a slight noticable difference between both cable versions in use.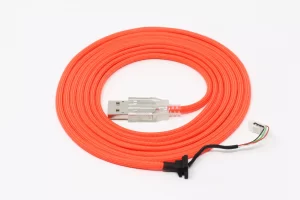 Onto the printed stress reliefs. We have been working on these since late 2020, we didnt want to release them until we was happy with the quality and durability, the printed stress relief models have been made to provide better fitments into specific mice so they fit just like the stock cables, making them easy to install. I know not everyone wants to heat heatshrink so hopefully this is something you like. We have been sending out cables with printed stress reliefs to members within the community to try out, feedback has been positive and with some minor adjustments we are pleased we can now include printed stress reliefs as a new add-on option on the store from today.
We have made stress reliefs for many popular mice which we will keep expanding upon request and with new mouse releases, the list below is the current printed stress reliefs available and stress reliefs that are being worked on now, the list will be updated as more mice have stress reliefs made by us:
I will provide a few pictures of the new printed stress reliefs below which showcases what they look and fit like:
Alongside the release of the printed stress reliefs there will also be an additional option to select the heatshrink or printed stress relief colour, currently this will be black and white but more colours will be added so you can choose a stress relief colour that suits your cable or mouse theme better. If there is a specifc colour or stress relief model you would like to see let us know via our our Discord!
We are pleased to announce we will now stock select Esports Tiger mouse pads such as: EBA, NEON Large, Quinsui 2 pro and Grandmaster Mor to name a few models. Further Esports Tiger mousepad models will be added to the store upon release and availibility. All mouse pads will be packed securely and shipped out via Royal Mail First class Signed for UK orders or Tracked & Signed services for International shipments. Mousepads that ship flat such as the Grandmaster Mor will ship out via First class signed for UK orders and alternative couriers for international shipments such as DPD and Parcelforce.
We are the offical UK partner of Pulsar Gaming Gears Superglides. We plan to stock all models released, some models such as the Starlight-12 will have limited stock, we do have a waitlist for products so if you wish to be notified once they are in stock, an update will also be provided on our Twitter and Instagram once the restock is live too. Some upcoming models of Superglides you can expect to see within March:
We would also like to welcome our new affiliates.  These affiliates are names you might be familiar with, from tech reviewers, twitch streamers and ZerkGamingMods Discord moderators. Using their code supports them whilst also providing 5% off your order (Excluding corepads).
Again we appreciate the support and we hope to continute to provide and improve the cables we make and stock on our store!  🙂
~Matt